Stoke City Football Club
February 2nd, 2011
By: joehigginson |

Add Comments
Preview
The Potters travel to Liverpool tonight in search of their first ever top flight win at Anfield (no reputation to uphold at least). With the January transfer window closing, the last few days have been tinged with disappointment for both teams.
Stoke are currently negotiating a tough run of away fixtures (five out of six games) due to postponements and the FA Cup. This week would have been perfect timing to give the squad a timely boost by bringing in some fresh faces but Pulis has chosen to sell rather than buy, with both Tuncay and Eidur Gudjohnson being shown the door. Tuncay was never the be all and end all, but he was undoubtedly one of the more skilful players in the team. The most galling thing is you automatically assume that 5.5mil for a player would guarantee a place in the starting line-up. Fans have described him a square peg in a round hole and that's a notion I to would subscribe to. There was no place within our formation for a man more focused on his own individualism than his position within the team. It might seem like a prehistoric view but it's one a lot of Stoke and Middlesbrough fans would concur with and I think 4M from Wolfsburg is the best return we could have hoped for in the circumstances.  I hope Fulham play Gudjohnson simply so us Stoke fans can formulate our own opinions on his ongoing 'lack of match fitness'. The players regularly spoke highly of him, Rory Delap going as far to call him the most technically gifted player in the squad (although what Rory defines as technically gifted is up for debate).
And despite writing a premature obituary for him, Ricardo Fuller is to stay at the club but I highly doubt with the improved pay packet he was searching for. Ric finds himself most definitely in his twilight years now and in all honesty, I'm still expecting a retirement announcement or a lucrative move to the States (and closer to home) to come within the next few months.  So as the dust settles, the general mood on the fans forums is one of disappointment that we didn't strengthen our squad further, particular in the area of central midfield. While the majority are happy to have Pennant on board permanently, John Carew's is being greeted unsurprisingly with a mixed reception. I've seen little to be impressed with from the Norwegian this season but I wait patiently for him to change my mind.
Much has changed at Liverpool since their woeful performance at the Britannia stadium several months back. With Stoke running out worthy 2-0 winners, critics tore into the Reds and their poor form away from Anfield, the performance highlighting all the shortcomings that had derailed their title challenge before it even got going. As everyone in the known galaxy is now aware, King Kenny has taken over from the beleaguered Roy Hodgson and there's no doubt Dalglish has made an impact. Despite his godlike status on Merseyside, there was little pressure on his shoulders and no one was expecting miracles from a man out of management for a decade). But it seems familiarity has facilitated calm in the Liverpool camp and they've now taken seven points from the last nine.
Despite the upturn in fortunes, it couldn't prevent star striker Fernando Torres looking for a new trough. However his departure is not the tragedy some fans are labelling it as. Liverpool are not solely reliant on his goals as suggested and you only have to look at the strikers body language over the last few months to suggest he wanted away. Assessing their latest recruits, Luis Suarez has been a player I've admired for a long time and a proven goalscorer (and shot-stopper) for Ajax and Uruguay. However it's difficult to make an immediate judgement on how players from the Dutch League will respond to the step up in quality. Ajax and PSV have been feeder clubs to the PL and La Liga for a long time and have produced some sensational players (Van Nistelrooy) as well as individuals who flattered to deceive (Huntelaar). I genuinely hope he becomes a Kop favourite (although hopefully that process will begin sometime after this game!).  Their other marquee signing represents a massive risk based solely on his overinflated price tag of 35M. When settled, Newcastle's Andy Carroll will be a excellent asset to the club and will help him massively in his burgeoning international career. However, given his age, temperament and overall inexperience at PL level, I wouldn't have offered anything over 12M and I guarantee the majority of Liverpool fans will agree with that judgement.
Teams
Very difficult to call a starting eleven for this fixture and I think at least a couple of players may be rested. I've a sneaking suspicion Tommy Sorenson might be retained for the game following his penalty heroics against Wolves. With Ryan Shawcross still out suspended, expect Abdoulaye Faye to partner Rob Huth in defence after his proposed move to Celtic fell through. Kenwyne Jones will be recalled to partner either Carew or Fuller up front and Dean Whitehead and Marc Wilson may both be drafted back into the lineup after being omitted on Saturday. Pennant, who's been mysteriously absent from the first team in recent weeks, may be called upon in order to rest Delap for the weekend.
Having exited the FA Cup, expect a pretty much full strength team from Liverpool. Carroll won't be making his debut after failing to shake off a bar stool related thigh injury while veteran Jamie Carragher could also miss out with a shoulder injury. Other than that, expect the usual faces of Gerrard, Maxi Rodriguez, Raul Meireles and Dirk Kuyt to line up behind a spritely Uruguayan ready to face his first Anfield crowd.
One To Watch
Steven Gerrard: All eyes will be on debutant Suarez but the talismanic Gerrard will always be the one to watch in this Liverpool side, particular with Torres now out the picture
Prediction
It would be great to grab any sort of result at Anfield but I just can't see it happening. Liverpool are hitting peak form and Pulis will undoubtedly be putting more emphasis on Saturdays home tie with Sunderland. 2-0 loss.
January 22nd, 2011
By: joehigginson |

Add Comments
Preview
So Stoke travel to London for the first time in 2011 this afternoon to take on a Fulham side narked by our actions earlier in the season. As we prepared to continue inevitable hostilities with Arsenal this year, few fans would have predicted the significant amount of bad blood built up with the Cottagers instead.
Our story begins back in September, when a dreary League Cup tie between the two sparked controversy late on when Andy Wilkinson made an reckless and completely unnecessary tackle on Moussa Dembele. Both camps rightly lambasted the challenge, and Mark Hughes refused Tony Pulis' handshake at the end of the game. Golden boy of English football Danny Murphy stoked the flames and rashly condemned three PL teams (including Stoke) for their tackling and overly physical approach to games. In all fairness his comments carried weight from a personal POV, particularly when coming so soon after injuries to Dembele and Bobby Zamora. However he vented these frustrations in completely the wrong way and inevitably faced a backlash. Following that, Decembers PL match between the two appeared to pass without incident, until Pulis snubbed Hughes at the full time whistle to prove he still harboured ill-feeling toward the Cottagers.
So despite being the only Welsh managers in the Premier League, there is little love lost between Hughes and Pulis. It's unfortunate for both managers that they should meet just three weeks after the latest debacle but it's a media dream. With more players and managers refusing the hand of certain individuals, it's a petty but amusing subplot to this game and the cameras will be trained on both managers at ninety minutes.   
Teams  
Fulham's fortunes have dipped dramatically since Roy Hodgson departed for his doomed tenure at Anfield. After a season of unqualified success which saw them reach the Europa League final and hold a respectable league position, a mix of bad luck and poor form has seen them rooted in the bottom half of the league for the majority of this campaign. However they have been steadily improving of late, winning three of the last five in all competitions (including that 2-0 victory at the Brit) and starting to look up rather than down. Key names look ready to return from long injury lay-offs with Dembele fit again, Andy Johnson back amongst the goals after such a torturous run of injuries and main man Zamora hoping for a return in the next few weeks. Murphy, Dickson Etuhu and Damien Duff will form an impressive midfield line for the Potters to try and crack. And Chris Baird is not a name Stoke fans wanted to hear anytime soon. After his scoring for fun antics at the Brit, here's hoping we don't let him venture outside his own half.
Having made ten changes in midweek for the third round replay with Cardiff, expect all the big names to be back in contention today. Danny Higginbotham will miss out after picking up a hamstring injury so expect Danny Collins to move back into the first team. Jermaine Pennant was a surprise omission from the squad last time out so it will be interesting to see if he makes a return this weekend. However the big question for today is who, if anyone, will partner Kenwyne Jones in attack. Tuncay has forced his way into the squad and put in an impressive display against Bolton, albeit as an attacking midfielder rather than a striker. However Pulis likes to blood his new signings immediately so John Carew may be handed his debut having finalised his loan deal yesterday.
One To Watch
Clint Dempsey – The American is often overshadowed but can be a real handful. Some of his ball control has been excellent this season and he's a sweet striker of the ball.
Prediction
We did the double over Fulham last season but I've got a sneaking suspicion that they're going to return the favour. 2-1 Loss
January 21st, 2011
By: joehigginson |

1 Comment
Some sad news this morning that Ricardo Fuller is to pack his bags for the North East after Sunderland secured his signature in a £3M deal. Ric signed from Southampton back in August 2006 and became an immediate fan favourite. He was one of the key components in our promotion winning year and has gone on to make a significant impact in the Premier League. He finished as our overall top scorer every season he was at the club, a sign of his quality. While his loyalty and temperament were occasionally called into question, I believe that for the first time in his career, Ric truly enjoyed his football while playing for the Potters. And while we knew that with his current form and injury problems this may have been his last season with us, the transfer still comes as something of a surprise. With Darren 'I WANNA TO GO TO SUNDERLAND!' Bent deserting and Danny Welbeck ruled out for eight weeks, the Black Cats are clearly looking for a stop gap player to prevent a striker shortage and help consolidate their current position. We know Fuller will give them that, and will add more physicality to a somewhat lightweight team.
So let's look at the implications for our own club. Rumours have been rife since Christmas that there's going to be a shakeup in our striking department. Here are three possibilities:
Has Tuncay's moment finally arrived? After some impressive performances in recent weeks, the penny looks to have finally dropped for Pulis of what a prodigious talent he has on his hands. Many thought his omission from the first team was due to his individualistic style being too out of touch within our regimented squad. Pulis himself has hinted in recent weeks that Tuncay has begun to understand the work ethic at the club. Was this the catalyst for his change of fortune? The only issue is that Tuncay is not an out and out forward. The system would have to change and dropping him in just behind Jones would most likely suit him best.
Although there has been no official confirmation, the hole left by Ric's departure will be immediately and snugly filled by Aston Villa's John Carew, who looks set to join us on loan for the remainder of the season despite competition from WBA. If Fuller's departure was indeed a sign of the clubs evolution, it seems strange to bring in a carbon copy player in his absence. For me, it stinks of a panic buy. Under Martin O'Neill, Carew put in some exceptional performances for the Villa but he's wilted this year, unable to reproduce the form that made him an instant favourite amongst the Hoult-enders. At 31 years old, the move contradicts Pulis's recent statements that he wants to make the average squad age younger. Something doesn't quite add up and I'll be very surprised if he's still at the Britannia in August.
While Tony Pulis and Dave Kemp have been ambivalent in recent weeks over whether Senegalese striker Demba Ba is coming to the club or not (in any capacity), I think the door may have finally shut. Having failed a medical (I didn't realise this was actually possible), Pulis had hinted at signing him on a trial period only, an agreement that the player and his club Hoffenheim appeared to be considering. If Carew does complete his loan switch however, I think that will signal the end of our interest. Ba has seemingly severed the ties with Hoffenheim and there's no way he'll hang round until the summer, particularly with teams like West Ham waiting in the wings.
So farewell and best of luck for the future Ric, and I leave you with a link to one of his 48 goals for the Potters, and my personal favourite.
http://www.youtube.com/watch?v=KJyekBPa7Gk
January 16th, 2011
By: joehigginson |

1 Comment
Teams
Stoke: Begovic, Higginbotham, Huth, Shawcross, Wilkinson, Wilson (Whelan 71), Whitehead, Tuncay, Delap, Etherington (Pugh 88), Jones (Walters 81)
Bolton: Jaaskelainen, Robinson, Cahill, Knight, Ricketts, Muamba (Moreno 66), Taylor (Petrov 66), Holden (Cohen 83), M Davies, Elmander, K Davies
Report
Stoke moved up to 8th in the league and level on points with Bolton after a convincing win against the Trotters. In a feisty affair punctuated with moments of class, both teams struggled to find real rhythm in very blustery conditions at the Brit. Stoke were the brighter of the two teams in a first half that yielded little goalmouth action. Tuncay carved out a couple of half opportunities and Rob Huth steered a header wide. The breakthrough came on 37 minutes, when a Tuncay corner was flicked on by Johann Elmander toward his own goal. A scramble ensued and Danny Higginbotham forced the ball over the line to give the Potters a deserved lead despite the lack of real clear cut chances.
Louis Spence's craggy older brother put the Potters in front on his 350th appearance
Bolton looked stronger in the second half as Stoke allowed them to play their passing game more. Stuart Holden came closest for the visitors when his well struck free kick was palmed away by Begovic. As the Trotters pushed further forward, we began playing some excellent counter attacking football that ultimately led to the second goal. Breaking forward, Tuncay (once again the architect) played a lovely through ball for Matty Etherington to chase. Nipping in behind Zat Knight, Matty was through on goal before being felled by a desperate tackle from the Bolton man. Stepping up to take the resulting (and stonewall) penalty, his shot squeezed in past Jaaskelainen despite the keeper getting more than a finger to the ball. From there, both teams eased off and despite my concerns that Bolton would once again pull something out of the hat, Stoke held on for an important victory.
Conclusions
Like I said in the preview, if Stoke want a top ten finish then these are the games you really need to turn up and perform and the lads put in a very professional display. There were a couple of surprises in an otherwise predictable line-up. Marc Wilson cemented his place in the first team and looked comfortable alongside Dean Whitehead. In attack, Ricardo Fuller was left at out of the squad following a family bereavement in his native Jamaica (no official confirmation) so Tuncay stepped in to fill his boots. Predictably, the media took this as Pulis putting up a show of support for the Turk after his internet video posts were interpreted (wrongly I believe) as signs of restlessness. However, had circumstances not called for it, he would have been benched today looking ahead to the Cardiff match on Tuesday. Out on the wing, Jermaine Pennant was a notable absentee and unusually it was Rory Delap pushed out onto the right (although Pulis probably wanted his only other fit striker Jon Walters on the bench rather than risking injury in his secondary position). Fair play to Rory, he might be severely lacking in pace and ball control but he still put in a decent shift in an unfavoured position.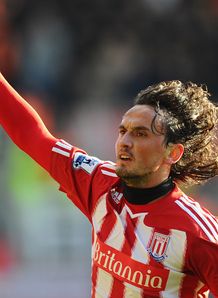 Tuncay put in a phenomenal display
Bolton didn't play badly but never looked particularly threatening in the final third. The majority of the team were outmuscled in the air and they struggled to cope with our physicality. The Trotters are having something of a blip right now, having picked up just one point in their last four (although they were clearly denied a share of the spoils at Liverpool). The fixtures aren't getting any kinder, with an improving Chelsea next to visit the Reebok so Owen Coyle will want to steady the ship as quick as possible.
Man of the Match
Tuncay: In a week where his loyalty and patience with the club has been called into question, he produced a commanding performance, set up both goals and deserved to be on the scoresheet himself.
January 14th, 2011
By: joehigginson |

Add Comments
Preview
If Stoke have a Premier League bogey team, it is undoubtedly Bolton Wanderers. Let's look at the recent evidence. Last year at the Reebok, Matt Taylor's injury time penalty grabbed an unlikely point for Wanderers. But the biggest kick in the teeth came at the Brit later in the season, when we let eighty minutes of dominance go to waste as Taylor won the game with two sweet strikes. The reverse fixture this season saw Bolton grab another injury time winner (deserved admittedly) to frustrate Stoke and leave this paranoid fan quivering at the prospect of the jinx striking again this weekend.
Looking at Bolton, I've got good reason to be cautious. Blackpool aside, they're the major success story of the season so far. When manager Owen Coyle left Burnley for the Trotters last year, many felt he'd made an ill-advised sideways move (despite the clubs presence in Europe only a couple of years previously). However he has truly stamped his authority on the club and has a group of players (that he inherited rather than bought) providing some of the most aesthetically pleasing football in the league.
Bolton currently occupy 7th place, the final Europa League spot (unless Arsenal don't pull their finger out against Ipswich) and a position coveted by about ten teams including Stoke. I've already dared to dream about Stoke clinching European football (in between worrying about relegation) but if we're going to even come close to making that a reality; these are the real must-win games. With the league as tight as it is, Bolton face a real battle over the next couple of months to defend and consolidate the position they hold. On the evidence I've seen so far, they look more than ready for the fight.
Teams
I expect Tony Pulis to field a full strength side despite the fact we face an infuriating trip to Cardiff on Tuesday. I don't mean to devalue the FA Cup but when both managers are desperate to avoid a replay (as Tony Pulis and Dave Jones were), surely dispensation can be made by the ref to carry a game into extra time and penalties instead. New FA ruling maybe? Anyway going back to Saturday and If Sky Sports is to be believed, we may be welcoming Senegalese international Demba Ba to the Potteries at some point today. Having refused to travel with Hoffenheim, Stoke have tabled a 6million bid to take him away from the Bundesliga so expect to hear more about that later. Looking at the regulars we've got no new injury concerns so expect to see Matty Etherington and Jermaine Pennant working the wings again, Kenwyne Jones partnering Ric Fuller in attack and Asmir Begovic, Andy Wilkinson and Danny Collins restored to the back five. I repeatedly call for Marc Wilson to start but Dean Whitehead will likely get in ahead of him having been rested last week.
Bolton have a host of regulars missing with Greta Steinsson, Simon Davis and Craig Gardner all injured, while Chung-Yong Lee is away for the Asian Cup. Top scorer Johann Elmander (one of the lost souls Coyle has transformed) and Martin Petrov will both provide major threats, while Gary Cahill and the giant Zat Knight are half of a solid back line Jones will have to penetrate. Matt Taylor needs no introduction to Stoke fans as we've seen, and is almost certain to start after his three goals and talismanic influence against us last year.
One to Watch
Kevin Davies: Mr Bolton himself has been the heart and soul of the Wanderers team for nearly a decade now and it's a shame he was overlooked at international level for so long. A natural goal-scorer happy to drop back when necessary, Bolton are significantly weakened without him.
Prediction
Given our recent pattern of results against Bolton, I'm going for a 1-1 draw; with Davies slamming home a 97th minute penalty equaliser to give them an inevitable share of the points
January 8th, 2011
By: joehigginson |

10 Comments
Preview
While the value of the FA Cup has undoubtedly diminished in the eyes of the Premier League elite, some of the old sparkle is still present and a major 'cupset' remains one of the highlights of the football season. Stoke face one of the trickiest tasks asked of a mid table Premier League side today, to take on and beat a high flying Championship outfit. Newport boy Tony Pulis is a great admirer of Cardiff City and their manager Dave Jones, and can often be heard lobbying for a Welsh side to reach the promised land of the Premier League.  
January normally marks the time Cardiff's perennial promotion bid goes off the rails and their current form has certainly been less consistent than earlier in the season. However they've continued to hold their own and after the busy Christmas schedule, a midweek win over Leeds took them back to second in the table, a position they've occupied for the majority of the season. Last year they suffered a similar FA cup fate to us, dumped out by eventual winners Chelsea at Stamford Bridge. Just three years ago however, they caused a stir in going all the way to FA Cup final and genuinely represented the best chance of a lower division side winning the competition in the modern era. With all that in mind, it's difficult to judge how Cardiff will treat the game. An extended run in the cup could well be a major hindrance to the Bluebirds promotion push and Jones knows the pressure is on to deliver the goods this season. On the other hand, this does represent a perfect opportunity for Cardiff to cut their teeth against Premier League opposition so I can't see the logic in putting out a reserve team.
Focusing on our own FA Cup history then, last year's run to the quarter finals was our best tournament in living memory (for this Stoke fan). What made this all the more bewildering is that (with the exception of York City) we successfully navigated a gauntlet to get to that point, beating Arsenal at the Brit and trumping Manchester City over two legs before finally succumbing to Chelsea at the Bridge. Had we overcome that small barrier, they might as well have started carving our name on the trophy. Pulis has promised to put out a strong side (in every sense) and I believe him. He really does take his cup competitions seriously even if the league takes priority. He revealed his envy of Dave Jones's repeat trips to Wembley with this Cardiff side and I get the impression leading Stoke out onto the hallowed and hackneyed turf remains his ultimate ambition. After last year's nightmare, probability, karma, equilibrium and destiny suggest the draw will be kinder to Stoke should we overcome the Bluebirds and Pulis will fancy another extended stay in the competition.
Teams
Pulis will want to win this one quickly so all the stronger players have to be in contention. Fuller and Jones won't be displaced in attack and the back five will remain unchanged. In midfield Dean Whitehead may face the chop (despite a terrific midweek performance) as these are the sort of games Rory Delap's long throws prove most effective. I got the impression earlier in the week a couple of players will be rested so Tuncay or Marc Wilson could be in for a potential start.
Cardiff have something of a striker shortage at present, with Craig Bellamy, Michael Chopra and Jon Parkin facing late fitness tests. I haven't followed the Championship religiously this season but know a couple of individuals who will likely stand out. Seyi Olofinjana will be looking for a start against the club who sold him (remember his strike for Hull against us last season). Keep an eye out for the talented Peter Whittingham, a skilful winger (although he has often been seen in centre-mid this season) and a master with a deal ball. At the back we have the always reliable Kevin McNaughton and I wouldn't mind seeing Lee Naylor in the starting lineup, a regular down my local.
One To Watch
Jay Bothroyd – It was a fantastic 2010 for a man desperate to display his credentials in the top tier of English football. A natural striker, his ability and finishing sees him lauded as one of the Championships best assets. With thirteen league goals and an England cap under his belt already this campaign, who would argue?   
Prediction
With only twelve league positions between the teams, this is a game neutrals will keep an eye on but we should really have the strength and quality to come through. 2-1 win.
January 3rd, 2011
By: joehigginson |

3 Comments
Morning all, hope you enjoyed the festive period. I've been away the last couple of weeks so apologies for not giving any prior notice of this in my last entry. Anyway here's what's been happening since I left.
Blackburn 0 – 2 Stoke City
Boxing Day saw us complete a fine double over a Blackburn side that boasts an imperious home form, losing five in just thirty-nine. Rob Huth proved his worth at both ends of the pitch, helping toward the clean sheet and nodding Stoke ahead just after half time from a Matty Etherington corner. Stoke bossed the game for long periods but clear-cut chances were few and far between. Rovers kept the ball better when in search of an equaliser but failed to seriously test Asmir Begovic; and paid the price for committing so many bodies forward when Marc Wilson buried his first goal for Stoke from close range. It was the sort of committed away performance we've only really come to see since the start of this season. There was little guile or craft but an honest game of football played in the right spirit. One can argue we were facing a Blackburn team still trying to find its feet after Sam Allardyce's dismissal but they were convincing enough just two days later, snatching all three points at the Hawthorns against WBA.  
Stoke 0 – 2 Fulham
Against Fulham we committed 'the' cardinal sin of conceding early, Chris Baird (yes, that's right) lashing home an unstoppable drive from outside the area after a weak clearance. To be honest, having watched Stoke come back time and time again from losing positions, this didn't really overly concern me. Even after going 2-0 down (Baird again!), I felt a half time Pulis ear-bashing would be enough to galvanise the boys into salvaging something. But unusually (particularly at home), the performance never came despite Stoke normally thriving when chasing the game. We looked completely stilted and one-dimensional, resorting to ineffective long balls easily dealt with by Brede Hangeland. Fulham wisely sat on their laurels and we simply lacked the invention to break them down. Pulis attempted an unconventional high-five rather than a handshake with fellow Welshman Mark Hughes after the game, leaving the latter unimpressed. I'm guessing it was previous after Hughes snubbed Pulis earlier in the year but it all seemed a bit juvenile. Overall then, it was a pretty sad way to see out an otherwise impressive 2010 and a lesson in never to underestimate certain individuals within a team.
Stoke 2 – 0 Everton
Against the Toffees we put in a very professional performance, soaking up long periods of Everton possession before clinically finishing the few chances of our own we managed to create. It was a robust display with little dynamism but everyone knew their role and communication seemed far better. Kenwyne Jones grabbed the opener, heading beyond Tim Howard after an inch perfect Etherington cross. The unfortunate Phil Jagielka put daylight between the sides when distracted by the alluring figure of Ric Fuller, poking the ball into his own net when pumped into the Everton area. Pulis singled out Jones for praise having returned to the sort of form we saw at the start of the season after a string of pretty lethargic displays. He looked lively and interested and deserved his goal having caused no end of problems to Everton's shaky back four. Credit to the defence too, who put in another faultless performance (minus a dodgy Ryan Shawcross air-kick!).
Preview: Manchester United Vs Stoke
Opposition don't come more formidable right now than unbeaten Manchester United at Old Trafford, particularly when playing your fourth game in ten days. Changes to the team (particularly in midfield and attack) have been mooted but I can't see Pulis making too much of a fuss over fatigue. Jon Walters may be drafted in for one of the front two, and Wilson or Glenn Whelan will likely get a game as well. It's difficult to get too excited about this match after our woeful recent record against Man United. While we may have ran them close on more than one occasion at the Brit, they've put nine goals past us without reply in the reverse fixture and tomorrow's game may well be heading for a similar outcome. With many players now bordering on exhaustion, I expect us to sit tight and deep as we try and defend against sustained one way traffic. Irritatingly, Wayne Rooney scored a proper goal recently and immediately won back his critics, cooing over his commitment to the cause (but hey for 200,000 a week, I would commit to a North Korean nuclear programme so it's not saying much). Anyway expect a more confident Rooney to step out tomorrow, although strike partner Dimitar Berbatov will likely carry the greater threat if playing.
Transfer Window
And finally, a word on the January transfer window. Some of criticised Pulis for seemingly adopting an open market stance in recent days but his actions were to the interest of our players rather than opposition scouts and managers. With little fluctuation to the first team in recent months, many of the team have breathed a little easier and see themselves as regulars, an atmosphere that Pulis is dead against cultivating. Using the game against Everton as an example, by suggesting a cull is on the cards, Pulis brought out the best in regulars like Jones and Fuller (who had previously dipped in form) as well as Danny Higginbotham (who looked to be on the way out not so long ago). The most laughable paper talk so far has included a potential bid to the bring the Beckham media circus to the Potteries and a Liverpool bid of five million for the much improved Rob Huth, signed for a mere six million when a Championship player two years back! Column inches need to be filled but in all honesty I don't think there'll be much movement in or out of the Brit in the next month. Having said that, one man who's already sign on the dotted line is Jermaine Pennant, clinching a permanent deal following his successful loan period. Pulis celebrated the acquisition in typical fashion, advising the winger that he will always be on trial and can always do more to impress. The fans want to see a creative midfielder eventually ousting the likes of Delap and Whitehead but Pulis will need some convincing. Thankfully, the talented Wilson seems to finally be breaking into the first team although I hope he isn't being started purely for rotational purposes around the Xmas schedule. There's a chance Pulis will want to pilfer Middlesbrough again having already made enquiries about David Wheater. Jamie O'Hara is another name consistently banded about on the forums having failed to make an impression on the Tottenham first team following an eye-catching loan period at Portsmouth. Another Spurs player falling further down the pecking order is Robbie Keane, but we would seemingly be competing with half the PL for his signature. As I say, I wouldn't start getting excited but I'll keep you updated with any persistent rumours I hear.
Think that's about that. Apologies again to regular readers (am I being hopeful?) for my recent lay off
December 17th, 2010
By: joehigginson |

5 Comments
Preview
All across the world, families are putting aside their personal differences in celebration of the festive season. Whether the Christmas spirit can improve the strained relations between Stoke and Arsenal is quite another matter; but given some of the comments already made this week, a miracle on Ashburton Grove is not completely out of the question.
Before last February, I never got the impression that Stoke and Arsenal fans held any real animosity for certain players on the opposing team. It was the war of words waged between managers Wenger and Pulis that first alienated both sets of fans against each other. Both have stayed quiet recently and it was Wenger who broke the proverbial armistice, taking a calm and dignified approach to tomorrow's fixture possibly in an attempt to defuse the growing tension in both camps. Wenger made himself a figure of ridicule ('enemy' seems a little farfetched) to Stoke fans when criticising our style of play, our pitch and of course our manager. Many felt he crossed a line when picking on particular players like Rob Huth, especially as he was slamming his display against Tottenham of all teams! I was fully expecting him to kick up a storm in his latest press conference but he earned back a bit of respect from this Stoke fan (not that I've ever had much time for him) with his diplomatic manner, suggesting the slate was clean and respect should be shown to the opponents. Admirable sentiments when he probably would have gotten away with throwing the book at us again. 
Like Wenger with Stoke, Pulis talked his way into Arsenal's bad books when refusing to take their criticism lying down, but he has been guilty of some senseless unprovoked sniping himself in the past. The full attention of the media is rarely focused on Stoke but this fixture has undoubtedly been marked as a potential time-bomb. With the press after a story, Stoke have a very careful line to tread this weekend and I think our manager is fully aware of the situation. In what was probably a pre-emptive strike against the papers given the angle they're most likely to take in their own previews and reports, Pulis chose to compare the recent disciplinary record between the two teams, which shows Arsenal to have picked up more cards and conceded more free kicks. It may look on the surface like more sniping but Pulis was right to bring the facts across to those journalists whose brand of reporting bypasses research in favour of stereotypes and preconceptions. I get the impression Pulis already thinks its backs against the wall time and there is some truth to that. Ultimately, it matters not that Stoke have a cleaner record that Arsenal this season, we will be the team that is scrutinised on the day.
The name on everybody's lips is of course young Aaron Ramsey. Stretchered off with a broken leg when the two last met in February, any cordial entente between the two teams was quickly dissolved. Ten months on, and Ramsey thankfully avoids being marked as a notable absentee having returned from injury and secured a loan to Nottingham Forest. Unfortunately, the greatest healer of all has failed spectacularly. Time will not have diminished the ill feeling of Arsenal fans toward the villain of the piece, Ramsey's 'attacker' Ryan Shawcross. We all know there was no malice or intent to harm in his challenge and the lad has done everything in his power to atone for the situation, apologising on camera and trying to keep in contact with Ramsey during his recovery period. However, whether these gestures were recognised by Arsenal fans or not is insignificant, our Captain faces a frosty reception (or as close to frosty as somewhere like the Emirates can muster) from the home fans regardless. It'll be a real test of his character and mental strength to lead the team out and try to deliver a performance memorable for the right reasons. As for the players, no-one has offered an opinion yet regarding the forthcoming fixture so I think we can expect handshakes all round, however grudging.
So as we enter the weekend, things would appear surprisingly calm with both managers courteous and dismissing the idea of a hostile atmosphere tomorrow. Should tomorrow pass by incident free, I can see both teams finally committing 'Ramsey-gate' to history and moving forward. Any controversy will be blown up on the back pages and probably set back relations for another decade. It's hanging in the balance!
Team News
Not often I can say this but first name on the team-sheet will be Rory Delap, the Gunners bane. Arsenal are the only top tier team that continue to struggle from the long throw (although admittedly the last evidence of this was nearly a year ago) and Stoke really need to focus on aerially bombarding the back five, the weakest elements in this Arsenal team. The line-up should be unchanged from last week's loss to Blackpool. Kenwyne Jones will be looking to impress after some pretty dire recent performances and Ricardo Fuller will want to continue his recent good form against the Gunners (it's been a while since his last 'one man army' performance so who knows). The defence will have plenty to keep them occupied and keeping pace with Arsenal for a full ninety minutes is a tough ask. Huth and Shawcross will need to be at the top of their game to keep a lid on things, but its full backs Danny Collins and Andy Wilkinson who will most likely be targeted. No fresh injury concerns but Jon Walters looks set to miss out after succumbing to a bout of flu.
Arsenals mental toughness was inevitably brought into question following their 1-0 loss to Manchester United but in all fairness, both teams looked pretty average that night and were at least competing on the same level (compared to the gulf in class that has been evident the last couple of seasons). As I mentioned above, Arsenals back line is vulnerable. The influence of Thomas Vermaelen is sorely missed right now and Sebastien Squillachi and Laurent Koscielny are still finding their feet in English football. Debutant Wojciech Szczesny (triple word score!) gave a decent account of himself in goal during his baptism of fire against Man United, but I'll hold back any further judgement for now (we'll see how many of you can remember his name in a month). Up front, Arsenal are all together a different proposition. Nicklas Bendtner is away on paternity leave but Cesc Fabregas, Robin Van Persie, Marouane Chamakh and Samir Nasri make up a frightening quartet of attacking players ready to cause trouble. I can see Jack Wilshere making the starting eleven as well, and Theo Walcott will make carthorses out of our defence if he starts. The big question is whether there's room for Andrey Arshavin? I don't watch Arsenal week in, week out but I've seen enough to conclude that the Russian has looked lacklustre of late and tends to go missing. It's arguably Wenger's biggest decision in terms of line-up.
One To Watch
Samir Nasri: Quite simply the best player in England so far this season. Everything has fallen right for Nasri in the last few months, winning French player of the year, installing himself as 'the' key component in this Arsenal team and mercifully avoiding his country's world cup debacle. A prodigious talent.
Prediction
Head is overruling heart this week. I'd be very surprised and very impressed if we got anything from this game, particularly as Arsenal will want to make a firm statement of their title credentials after losing top spot last week. 2-0 loss.
December 12th, 2010
By: joehigginson |

6 Comments
Report
Sir Stanley Matthews dominated the pre match build up with glowing tributes displayed on the big screen before kick-off. While the players were unable to conjure up a thriller in his honour, he wouldn't have been disappointed by the ensuing ninety minutes and would be particularly impressed by the Blackpool team of 2010, who notched up their fourth away victory and became the third team this season to grab all three points at the Brit.
As per usual with this Stoke side (last week being a rare exception), the first half was a bland affair with only one or two chances to note. Ricardo Fuller came closest, sending a beautiful curling shot crashing against the crossbar when found in acres of space. Elliot Grandin should have put the visitors in front after brilliantly beating the offside trap; but a poor touch allowed Asmir Begovic to get down and intercept before he could get a shot away. Stoke thought they'd gone in front when Rory Delap headed in amidst a goalmouth scramble but the effort was quickly ruled out after a clear foul from Rob Huth on keeper Richard Kingson.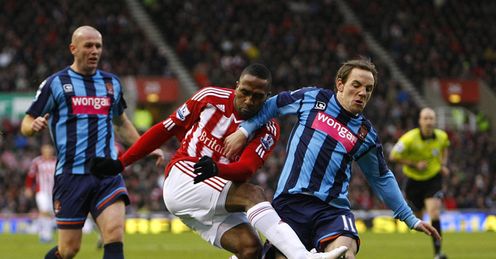 Ricardo Fuller tussles with David Vaughan
As per usual with this Stoke side (last week being a rare exception), the second half proved a more eventful affair. Stoke seemed quicker out the traps but completely switched off at the back, allowing Blackpool to sneak in and grab the only goal. A quick break saw the ball with Luke Varney completely unmarked on the left (Andy Wilkinson having gone missing). He cut across to Charlie Adam, whose precision pass (or more realistically, his weak shot) found its way to DJ Campbell to poke home from close range. Shell-shocked, the Potters nearly conceded a second after Gary Taylor-Fletcher's head met Charlie Adam's neat free kick, the crossbar rescuing Begovic this time round.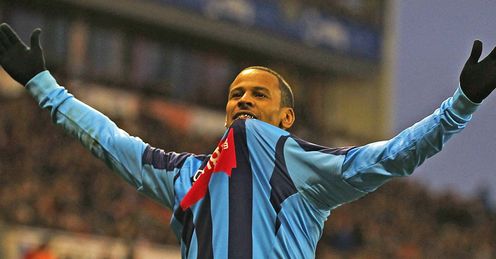 DJ Campbell's novel alternative to the popular neck snug
Stokes resilience (particularly at home) almost inevitably began to come through. Matty Etherington was the next player frustrated by the frame of the goal, his sublime free kick beating Kingson but not the battered and bruised crossbar. Players finally began to commit themselves and piled forward in search of an equaliser that despite the chances, just never looked like coming. Huth's header prompted an instinctive save from Kingson while man on the line Ian Evatt unknowingly saved the points for Blackpool when Delap's shot hit him full in the face. The storm weathered, Blackpool held on until the final whistle to seal a hard fought victory.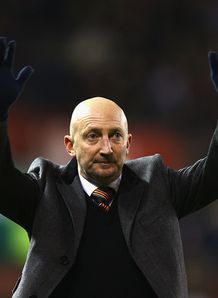 Poker Face: Ollie hides his elation at his sides victory
Conclusions
The MOTD team concluded that Stoke shaded the game overall but I have to disagree. Blackpool readily admitted they rode their luck at times but it's hard to deny that they were worth the win. I wouldn't say we were unprepared for their 'who dares, wins' attitude, but our own conservatism prevented us from effectively countering it and that was ultimately our downfall. Some of Blackpool's attacking play was as good as I've seen from any team in the Premier League and it was difficult to point out the established outfit from the debutants at times. Possession and passing play were completely absent from our game yesterday and there was very little communication as players colliding into each other in their haste to pump it back upfield. I don't think anyone can doubt we were over-defensive today. We failed to commit men forward until late into the game and too often resorted to long balls up to the surprisingly ineffective Kenwyne Jones. Tuncay and Jon Walters added a bit more attacking flair on their second half introduction but the damage was done. With much of Stokes attack bypassing the midfield, Matty Etherington and Jermaine Pennant were largely redundant, the majority of their output coming from set pieces. It's so frustrating to see two of our best players effectively neutralised from the game particularly after the great strides taken recently to try and play the ball. Although we know this mindset has to change, don't expect it to come immediately. Fans will be desperate to take something back from the Emirates next week so it's likely we'll play even deeper to grind out a result.
Stoke can consider themselves unlucky to an extent having come close on a number of occasions but one mustn't forget Blackpool had a similar number of chances to extend their own lead. I mentioned the issue of poor finishing a couple of weeks back against Man City and the subject has again reared its head with fans concerned at our inability to convert chances. I personally don't believe this particular issue was the reason for yesterdays defeat. We undoubtedly had chances (many speculative), but how many of those can we honestly define as clear goal-scoring opportunities and furthermore, how many can we say we should have done much better with. The issue today was the failure to create enough clear-cut opportunities, not the fact we were unable to put the ball in the back of the net.  
Some have come out and said our expectations for this game were massively over-inflated. While the majority of us were shocked at the result, I think this is less about underestimating the Seasiders and more about comprehending the fact it was a home defeat. Similarly, there is no way Pulis, who thrives on having the opposition underestimate his Stoke team, would have fallen into the same trap he sets for others week in week out. Ultimately, while the loss is obviously a crushing disappointment, I'm infinitely glad to be felled by Blackpool at home as opposed to Manchester City or Liverpool. They've been the breath of fresh air the Premier League so desperately needed and I really hope this victory proves decisive in them remaining in the top flight (although hopefully not at our own expense!).
Teams
Stoke: Begovic, Huth, Collins, Shawcross, Wilkinson (Whelan 83), Pennant (Tuncay 70), Whitehead, Delap, Etherington, Jones (Walters 70), Fuller
Blackpool: Kingson, Crainey, Eardley, Evatt, Cathcart, Vaughan, Grandin (Phillips 80), Adam, Taylor-Fletcher, Varney, Campbell
Man of the Match
Danny Collins: Charlie Adam had a fantastic game but this is a Stoke blog! Last week I questioned Collins' place in the starting eleven but his performance yesterday answered his critics. By some distance the best of the back four, he threw himself into some heroic last ditch challenges and was not at any fault for the goal conceded. Some have continued to bemoan his ability but I really think yesterday was a morale booster for him despite the loss.
December 11th, 2010
By: joehigginson |

3 Comments
"In football you need to have everything in your cake mix to make the cake taste right"
Ian Holloway, 10.12.10
Preview
Spoken directly from the Holloway household after a misguided attempt at a Victoria Sponge, the Blackpool manager vents his feelings on all things confectionary. Easy as it would be to believe that, this was in fact Ian Holloway's unusual but kindly metaphor for the Stoke City team. However he goes on to describe Rory Delap's long throws as the 'cinnamon in our cake'. So with the sweetest of ingredients describing undoubtedly the ugliest part of our game, what did he mean by that? Hmm…
While we could spend hours unravelling Holloway's latest philosophical musings, his sentiments basically reflect the wall to wall love in which has comprised the build up to Stoke versus Blackpool this weekend. If I were a vindictive man I'd make this blog entry as corrosive as possible but who am I to disrupt the general good feeling.  Managers Pulis and Holloway are old pals and that friendship has been made blatantly obvious this week as both managers prostrate themselves in awe and praise of the other.  Both sets of 'proper' fans have plenty of respect for each other too so expect the Brit to be at full volume later. There is of course also the fact that both clubs continue to revel in the glory brought to them by Stan Matthews, whose spirit will quite rightly dominate proceedings today. The legendary figurehead of both clubs would loved to have attended the first top flight meeting of his spiritual and adopted homes since 1971 and the game is unsurprisingly being billed as the Matthews derby.
Blackpool have surpassed everyone's wildest expectations (including their own) to sit relatively comfortably in mid table as Christmas approaches. Manager Holloway has always been quick to bestow praise on his players but he deserves a hell of a lot of credit himself. Blackpool don't go into a game chasing anything other than three points. It's a frightening enthusiasm seldom displayed by the established mid-table bloc and virtually non-existent amongst the promoted sides. Everyone knows their role, complementing each other perfectly and they've even conjured up the sort of individual brilliance that so often rescues a disjointed Chelsea or Arsenal performance. I was sceptical of the early charge they made this season having seen previous play-off winners Burnley and Hull make similar starts before faltering, but they look the real deal.
Stoke are on a high themselves, last week's draw with Wigan their fifth game without defeat. It was an excellent match and one of the few performances away from home we can look back on with some pride. We've have had some notoriously poor Decembers in recent times so here stands a golden opportunity to alter that record. Matty Etherington has rediscovered the form that saw him turn Fabio Capello's head half an inch last season and stands on the cusp of being the first Stoke player to score in four consecutive Premier League matches. (audible gasps)
Teams
Stoke have no new injury concerns with Jermaine Pennant and Andy Wilkinson returning to full time training. I fully expect both to start today, with Wilkinson replacing last week's emergency stand in Rob Huth (who should move back into the centre) and Pennant ousting Jon Walters, who impressed in a less familiar role last week. I'd like to see Walters partner Kenwyne Jones up front as I think his form warrants it but he may well have to be content with a substitute appearance. Other than that, we should be unchanged as usual.
Fortunately, a frozen pitch means we're not facing a Blackpool team on a high following a 5-0 demolition of Manchester United, but they may well benefit from the unexpected break. Holloway should have a full squad to pick from but Ludovic Sylvestre may not be risked after returning from a hamstring injury. I can't really see them changing the line-up too much. Luke Varney and DJ Campbell will be a handful if both lead the attack while David Vaughn (who's making a real name for himself) poses a big threat from the midfield.
One to Watch
Charlie Adam: Grabbed a few unwanted headlines in recent weeks but that aside, the Scot was the inspiration behind last season's promotion charge and continues to bear the standard this term. He's inevitably generated interest and paper talk with the transfer window ready to open but as club captain, he seems a committed individual.   
Prediction
I was arrogant enough in the summer to believe this would be an easy three points. While that won't be the case, I do think we will have to much going forward and I can't see the Seasiders holding out forever if Jones and Fuller both play. 2-0 win.