Match Report: Stoke City 0 – 1 Blackpool FC
By: joehigginson | December 12th, 2010

Report
Sir Stanley Matthews dominated the pre match build up with glowing tributes displayed on the big screen before kick-off. While the players were unable to conjure up a thriller in his honour, he wouldn't have been disappointed by the ensuing ninety minutes and would be particularly impressed by the Blackpool team of 2010, who notched up their fourth away victory and became the third team this season to grab all three points at the Brit.
As per usual with this Stoke side (last week being a rare exception), the first half was a bland affair with only one or two chances to note. Ricardo Fuller came closest, sending a beautiful curling shot crashing against the crossbar when found in acres of space. Elliot Grandin should have put the visitors in front after brilliantly beating the offside trap; but a poor touch allowed Asmir Begovic to get down and intercept before he could get a shot away. Stoke thought they'd gone in front when Rory Delap headed in amidst a goalmouth scramble but the effort was quickly ruled out after a clear foul from Rob Huth on keeper Richard Kingson.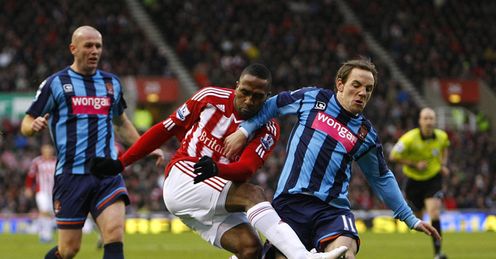 Ricardo Fuller tussles with David Vaughan
As per usual with this Stoke side (last week being a rare exception), the second half proved a more eventful affair. Stoke seemed quicker out the traps but completely switched off at the back, allowing Blackpool to sneak in and grab the only goal. A quick break saw the ball with Luke Varney completely unmarked on the left (Andy Wilkinson having gone missing). He cut across to Charlie Adam, whose precision pass (or more realistically, his weak shot) found its way to DJ Campbell to poke home from close range. Shell-shocked, the Potters nearly conceded a second after Gary Taylor-Fletcher's head met Charlie Adam's neat free kick, the crossbar rescuing Begovic this time round.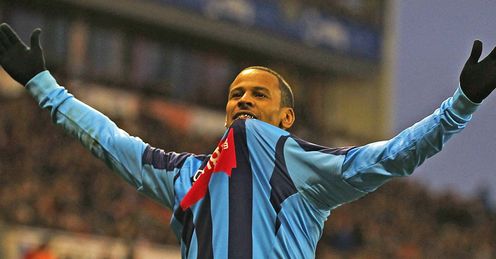 DJ Campbell's novel alternative to the popular neck snug
Stokes resilience (particularly at home) almost inevitably began to come through. Matty Etherington was the next player frustrated by the frame of the goal, his sublime free kick beating Kingson but not the battered and bruised crossbar. Players finally began to commit themselves and piled forward in search of an equaliser that despite the chances, just never looked like coming. Huth's header prompted an instinctive save from Kingson while man on the line Ian Evatt unknowingly saved the points for Blackpool when Delap's shot hit him full in the face. The storm weathered, Blackpool held on until the final whistle to seal a hard fought victory.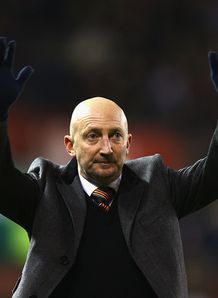 Poker Face: Ollie hides his elation at his sides victory
Conclusions
The MOTD team concluded that Stoke shaded the game overall but I have to disagree. Blackpool readily admitted they rode their luck at times but it's hard to deny that they were worth the win. I wouldn't say we were unprepared for their 'who dares, wins' attitude, but our own conservatism prevented us from effectively countering it and that was ultimately our downfall. Some of Blackpool's attacking play was as good as I've seen from any team in the Premier League and it was difficult to point out the established outfit from the debutants at times. Possession and passing play were completely absent from our game yesterday and there was very little communication as players colliding into each other in their haste to pump it back upfield. I don't think anyone can doubt we were over-defensive today. We failed to commit men forward until late into the game and too often resorted to long balls up to the surprisingly ineffective Kenwyne Jones. Tuncay and Jon Walters added a bit more attacking flair on their second half introduction but the damage was done. With much of Stokes attack bypassing the midfield, Matty Etherington and Jermaine Pennant were largely redundant, the majority of their output coming from set pieces. It's so frustrating to see two of our best players effectively neutralised from the game particularly after the great strides taken recently to try and play the ball. Although we know this mindset has to change, don't expect it to come immediately. Fans will be desperate to take something back from the Emirates next week so it's likely we'll play even deeper to grind out a result.
Stoke can consider themselves unlucky to an extent having come close on a number of occasions but one mustn't forget Blackpool had a similar number of chances to extend their own lead. I mentioned the issue of poor finishing a couple of weeks back against Man City and the subject has again reared its head with fans concerned at our inability to convert chances. I personally don't believe this particular issue was the reason for yesterdays defeat. We undoubtedly had chances (many speculative), but how many of those can we honestly define as clear goal-scoring opportunities and furthermore, how many can we say we should have done much better with. The issue today was the failure to create enough clear-cut opportunities, not the fact we were unable to put the ball in the back of the net.  
Some have come out and said our expectations for this game were massively over-inflated. While the majority of us were shocked at the result, I think this is less about underestimating the Seasiders and more about comprehending the fact it was a home defeat. Similarly, there is no way Pulis, who thrives on having the opposition underestimate his Stoke team, would have fallen into the same trap he sets for others week in week out. Ultimately, while the loss is obviously a crushing disappointment, I'm infinitely glad to be felled by Blackpool at home as opposed to Manchester City or Liverpool. They've been the breath of fresh air the Premier League so desperately needed and I really hope this victory proves decisive in them remaining in the top flight (although hopefully not at our own expense!).
Teams
Stoke: Begovic, Huth, Collins, Shawcross, Wilkinson (Whelan 83), Pennant (Tuncay 70), Whitehead, Delap, Etherington, Jones (Walters 70), Fuller
Blackpool: Kingson, Crainey, Eardley, Evatt, Cathcart, Vaughan, Grandin (Phillips 80), Adam, Taylor-Fletcher, Varney, Campbell
Man of the Match
Danny Collins: Charlie Adam had a fantastic game but this is a Stoke blog! Last week I questioned Collins' place in the starting eleven but his performance yesterday answered his critics. By some distance the best of the back four, he threw himself into some heroic last ditch challenges and was not at any fault for the goal conceded. Some have continued to bemoan his ability but I really think yesterday was a morale booster for him despite the loss.

Category:
Stoke Team News
Comments